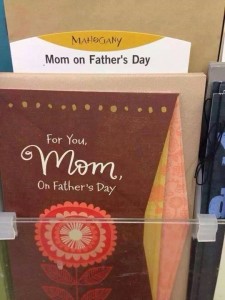 I was recently tagged in a photo uploaded on Facebook to Witches Brew page, of a Mahogany card, by Hallmark, for Father's Day. I know some of you are saying "ok", "and"! Well the card was for Fathers Day but as you can see in the picture it was addressed to Mothers on Father's Day! SMH!
Last year right before Mother's Day I made a post to the women in my feed about how, on Mother's Day, no matter how trifling and fucked up some peoples mothers were when they were growing up, or if they were absentee, you never, ever, ever see men spewing hate about their mother on or before that day. You never ever see men trying to lay claim to being their child/children's mother too! Never Ever!
So my appeal was to have women think twice before they claim that they had to play father too to their kids, just because the father was a deadbeat and wasn't around. It makes no sense at all! It doesn't matter if someone else post it and you like it, stop it, You Are Not The Father! And feeling any kind of way that gives you the notion that you played the role of the father too is borderline psychotic. And if your child post it, correct them right away, it's obvious that they've been raised to believe a lie!
You're confusing taking them to play sports or going outside and playing sports with your child as being a "father figure" or as something that's strictly thought of a s father's duty. My wife takes my kids to activities all the time, and has occasionally shot a couple hoops with my son's, but was she doing my duties, she wasn't doing some holy fatherly thing that only fathers are allowed to do, she was bonding with her children as any mother should.
Get mad if you want to, call me whatever but stop laying claim to something that you have no capacity to be. I feel you, you had a tough time trying to raise them and keep things together, I commend you for that. My mother did the same, and I love here to death for trying to keep me level headed enough to not venture out and be part of the problem! She did a hell of a job raising 6 kids virtually on her own with no help at all from my father, and a little help from my siblings father.
But at no time ever did she lay claim to being my father too. She had enough wisdom to know that she wasn't a father and enough dignity to not think she deserved that accolade, she was and still is all woman! A woman that was strong enough to hold shit down without a man, but never felt like she was a man.
A lot of y'all have it twisted, you're letting these feminist movements and propaganda create an alternate understanding of feminism that seems to want to see women shown in a more masculine light, and Sisters, you are ground zero for the re-education.
Just take a look at how Black women are being portrayed in the media now; you're wild, uncouth loud mouthed women who will beat each other into the dirt, just like men, a bunch of Sharkeisha's. Reality shows have fucked up what a real woman (Black) is supposed to be by elevating the worst of the pack to the top of the pecking order, i.e. Nene Leaks! And no I'm not one of those every Black woman is a Queen kinda dudes, because that's false propaganda too! Some of you are exactly who you're supposed to be, just regular people, everyone can't be Queens, and for damn sure, not one of y'all can be Kings, period! These chicks on the internet calling themselves King this to King that, or calling Beyonce, King Bey are a part of the problem. Stop that shit now and be a part of the solution!
At the end of the day, there is no way a woman can take the place of a man and be a father to their children, the only thing you can do is find a way to get them in front of a man that's a good father who can teach them what a father is, and that's it! And the real sad part about this, is that it's only prevalent in our culture, amongst Black women, go figure!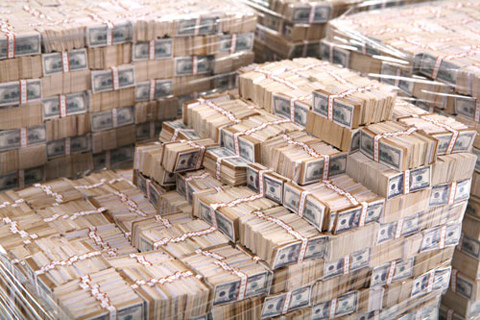 A few days ago I ran across an article online where a teacher (http://activistteacher.blogspot.ca/2013/01/calculated-minimum-reparation-due-to.html?m=1) decided to do the math behind what black people would be owed if we got reparations adjusted for todays minimum wage values. He did his numbers based solely on a minimal economic value of free slave labor adjusted at the lowest reasonable rate of interest.
The number he came up with was $1.5 million dollars for every Black person in this country that descended from a enslaved ancestor, which is roughly, wait for it…………… $59.2 trillion dollars.  Yep approximately $60 trillion in reparations is owed to blacks in America and this is based off minimum values. This is why Congress will never seriously talk about reparations in a meaningful way.
Crazy isn't it!
So after reading the article it got me thinking. If the newly freed slaves had gotten the 40 acres and a mule promised to them by Lincoln during the Civil War, how much land would we own?
After doing the math it was simple to realize why they went back on that plan almost immediately after the war was over, so here it is! Continue reading →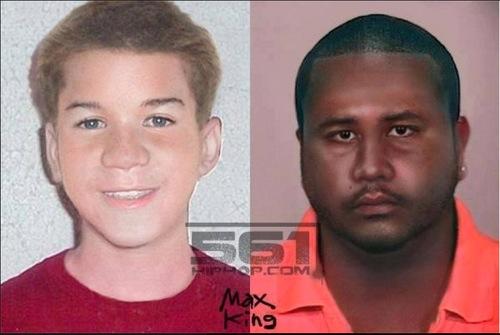 Dear White America, close your eyes and imagine for a minute that this is how the Trayvon Martin incident!
On February 26th 2011, a young white boy was walking to his father's house after coming from the store. He was wearing a hoodie and carrying a bag of skittles and ice tea, he was minding his own business.
Out of nowhere a grown Black man drove by and assessed that this white teenager was up to no good so he started following him. The teenager recognized that he was being followed so he ran, not knowing why this grown man was following him, he just knew that a creepy dude in a car was following him for no reason. Is it a crime for a white kid to go to the store to get some snacks? I think not! He was within his rights to be where he was and was doing nothing wrong, yet because he was he was immediately vilified by the Black guy in the car. This is evident in the fact that he decided to follow the kid because "he looked like he was up to no good".
The black guy then proceeds to call 911 to report this "suspicious looking" white kid that was wearing a hoodie. He then told the 911 operator that he was following the suspect, and the operator immediately told him to stand down, do not follow him, the police are on their way. This grown Black dude then proceeds to get out of his car and follow the white teenager anyway, even though he was told not to. As he is following the teenager he can be heard mumbling about how they always get away with stuff. The call ends and he continues to pursue the white teenager.
By this time the white teenager has called his friend and is telling her that a creepy looking nigger is following him. He looks up and there he is, the Black man is standing there, and before he hangs up the phone with his friend, he is overheard saying "why are you following me"?
What happens next more than likely went like this! Continue reading →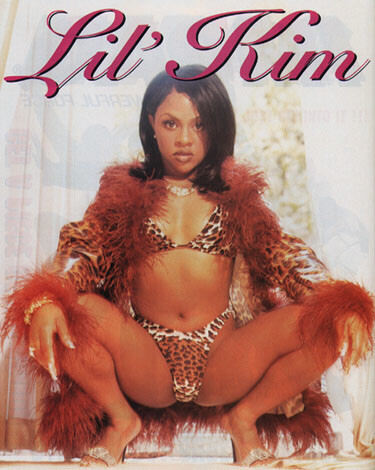 Chapter from The Pawn Queen!
BLK (Before Lil Kim) women in hip hop were uplifting the Black female with their lyrics. Most of the female emcees BLK were women of distinction and were a part of the Black power hip hop movements of the 80's. You had women like Mc Lyte, Queen Latifah, Ms Melody, Salt and Pepa, Yo Yo, Monie Luv, etc. If you're old enough to remember these women, if not google them, you will quickly realize that most of them were not sexy, half naked femcee's but were for the most part, save one or two of them, overweight and wearing full garb. Salt and Pepa were the only ones out of this group of women who wore tight outfits but that was during the spandex era, which by the way is upon us again. These women wrote lyrics about being respectful women.
ALK (After Lil Kim) you will see that the vast majority of female emcees that were allowed to grace the stage as nationally respected women emcees had to fit the Lil Kim mold.
Hip hop had been usurped by the half naked gold digging hussy, as mom's used to call them. Lil Kim ushered in an entirely new brand of hip hop for women. She was a firebrand, she knew exactly what she wanted and it was money, sex, and partying. Her lyrics were brazen and unapologetic for who she was. No endearing moments of motherhood, no uplifting lyrics of the Black Queen, she was by her own words, the Queen Bee-itch. But what she did have was the attitude of the independent woman who doesn't know what being independent really is. She is the direct product of the use what you got to get what you want mind state that some black women teach their daughters. She was trying to escape her own reality by either getting a man with money or doing whatever it took to make money, as she willfully rapped about in her lyrics. For the most part she would write her own lyrics and Biggie would make sure that the words flowed properly to the beats and add his input to make sure she sounded good on her albums.
So one night I was headed to sleep and I asked The Most High what I needed to do to heal myself and live a longer better life and a word came to me. The word that came to me was Priyaha. I had never seen nor heard this word in my life. So as we do in the internet age, I googled it and I got 2 hits. One was Bhrahmana Priyaha "he is lord of all pious souls who dedicate their life to God" on gurusfeet.com. The other was from Chapter 12 of the Bhagavad Gita and it goes as follows:
Arjuna
1.     Dear Lord, Who is better versed in Yoga – the ones who worship You in constant devotion with your form or the ones who worship You as the formless? 
Sri Bhagavaan (Sri Krishna)
2.     Those who fix their minds on me and worship me (with form) ever with supreme faith, I consider them as perfect in Yoga.(Yoga meaning– Union with God)
3.     But those who worship me as the formless, as the unchanging, the imperishable and the Omnipresent ONE…