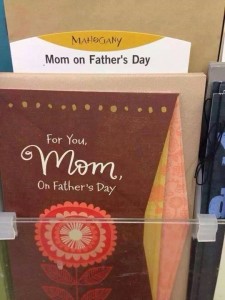 I was recently tagged in a photo uploaded on Facebook to Witches Brew page, of a Mahogany card, by Hallmark, for Father's Day. I know some of you are saying "ok", "and"! Well the card was for Fathers Day but as you can see in the picture it was addressed to Mothers on Father's Day! SMH!
Last year right before Mother's Day I made a post to the women in my feed about how, on Mother's Day, no matter how trifling and fucked up some peoples mothers were when they were growing up, or if they were absentee, you never, ever, ever see men spewing hate about their mother on or before that day. You never ever see men trying to lay claim to being their child/children's mother too! Never Ever!
So my appeal was to have women think twice before they claim that they had to play father too to their kids, just because the father was a deadbeat and wasn't around. It makes no sense at all! It doesn't matter if someone else post it and you like it, stop it, You Are Not The Father! And feeling any kind of way that gives you the notion that you played the role of the father too is borderline psychotic. And if your child post it, correct them right away, it's obvious that they've been raised to believe a lie!
You're confusing taking them to play sports or going outside and playing sports with your child as being a "father figure" or as something that's strictly thought of a s father's duty. My wife takes my kids to activities all the time, and has occasionally shot a couple hoops with my son's, but was she doing my duties, she wasn't doing some holy fatherly thing that only fathers are allowed to do, she was bonding with her children as any mother should.
Get mad if you want to, call me whatever but stop laying claim to something that you have no capacity to be. I feel you, you had a tough time trying to raise them and keep things together, I commend you for that. My mother did the same, and I love here to death for trying to keep me level headed enough to not venture out and be part of the problem! She did a hell of a job raising 6 kids virtually on her own with no help at all from my father, and a little help from my siblings father.
But at no time ever did she lay claim to being my father too. She had enough wisdom to know that she wasn't a father and enough dignity to not think she deserved that accolade, she was and still is all woman! A woman that was strong enough to hold shit down without a man, but never felt like she was a man.
A lot of y'all have it twisted, you're letting these feminist movements and propaganda create an alternate understanding of feminism that seems to want to see women shown in a more masculine light, and Sisters, you are ground zero for the re-education.
Just take a look at how Black women are being portrayed in the media now; you're wild, uncouth loud mouthed women who will beat each other into the dirt, just like men, a bunch of Sharkeisha's. Reality shows have fucked up what a real woman (Black) is supposed to be by elevating the worst of the pack to the top of the pecking order, i.e. Nene Leaks! And no I'm not one of those every Black woman is a Queen kinda dudes, because that's false propaganda too! Some of you are exactly who you're supposed to be, just regular people, everyone can't be Queens, and for damn sure, not one of y'all can be Kings, period! These chicks on the internet calling themselves King this to King that, or calling Beyonce, King Bey are a part of the problem. Stop that shit now and be a part of the solution!
At the end of the day, there is no way a woman can take the place of a man and be a father to their children, the only thing you can do is find a way to get them in front of a man that's a good father who can teach them what a father is, and that's it! And the real sad part about this, is that it's only prevalent in our culture, amongst Black women, go figure!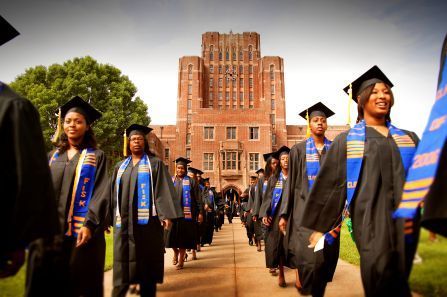 Black women, please stop mentioning the fact that you're college educated when you whine on and on about there not being any good Black men in the dating pool for you. It serves no purpose, at all! The reason why is because we could give a flying crap about your degree. As a matter of fact, your degree is synonymous with toilet paper to us. Yep that's right, if we ran out of toilet paper and your degree was the first thing we saw, we'd wipe our asses with it!
Less than 1% of all Black men care about your degree!
That's right of "All Black Men", so when you think your degree should give you some type of ground to stand on when in the dating world, you are sorely mistaking. Then out of that 1% that do care, half of them are likely already in a relationship or married to other women with degrees. So you're competing for less than one half of 1% of all eligible bachelors out there when you emphasize your degree.
The reason that your pool shrinks dramatically is because when a man hears a woman using her degree as a qualifier to why she should be desirable as a mate, he automatically labels you with the "I'm independent, I don't need no man" sticker and that label usually brings a lot of baggage with it.
With the degree usually comes a pretty nice salary, which doesn't mean anything to most men but you do have a few that are intimidated by this but the vast majority of men don't care if a woman that he's dating is paid, as a matter of fact we usually brag about it. But what he cares about is if you think making more money equates to wearing the pants in the relationship, and the sad thing is, a very large percentage of Black women who have a degree and make more money than their man actually try to emasculate the man. That's where the problems begin. Continue reading →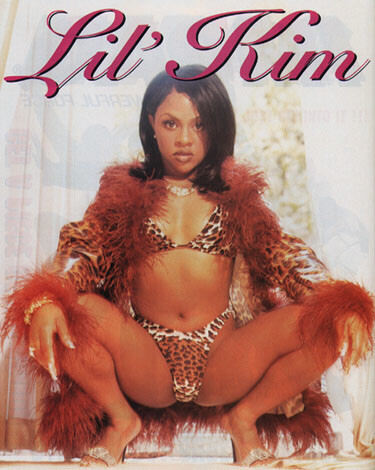 Chapter from The Pawn Queen!
BLK (Before Lil Kim) women in hip hop were uplifting the Black female with their lyrics. Most of the female emcees BLK were women of distinction and were a part of the Black power hip hop movements of the 80's. You had women like Mc Lyte, Queen Latifah, Ms Melody, Salt and Pepa, Yo Yo, Monie Luv, etc. If you're old enough to remember these women, if not google them, you will quickly realize that most of them were not sexy, half naked femcee's but were for the most part, save one or two of them, overweight and wearing full garb. Salt and Pepa were the only ones out of this group of women who wore tight outfits but that was during the spandex era, which by the way is upon us again. These women wrote lyrics about being respectful women.
ALK (After Lil Kim) you will see that the vast majority of female emcees that were allowed to grace the stage as nationally respected women emcees had to fit the Lil Kim mold.
Hip hop had been usurped by the half naked gold digging hussy, as mom's used to call them. Lil Kim ushered in an entirely new brand of hip hop for women. She was a firebrand, she knew exactly what she wanted and it was money, sex, and partying. Her lyrics were brazen and unapologetic for who she was. No endearing moments of motherhood, no uplifting lyrics of the Black Queen, she was by her own words, the Queen Bee-itch. But what she did have was the attitude of the independent woman who doesn't know what being independent really is. She is the direct product of the use what you got to get what you want mind state that some black women teach their daughters. She was trying to escape her own reality by either getting a man with money or doing whatever it took to make money, as she willfully rapped about in her lyrics. For the most part she would write her own lyrics and Biggie would make sure that the words flowed properly to the beats and add his input to make sure she sounded good on her albums.
The quote for Black people should be; Too Many Indians That Think They Are Chiefs and Not Enough Chiefs for all These Damn Indians.
I wholly understand the first quote but over the years I have come to realize that it's not as accurate as I once thought. The reason for this is that these Indians that are trying to be chiefs are really acting and they have no real understanding of what it takes to be a chief. They posture themselves and try to talk like a chief but they can't walk the walk, not even a block, let alone a mile in the shoes of a real chief.
They get ahead of themselves when dealing with Black on Black situations, but if you toss them into the room with a white chief they quickly play the subordinate role. (more on the Black on Black situation in a post to come)
On the other side there's the multitude of Indians and not enough people willing to stand up as chiefs. This is when it has to do with enlightenment and uplifting of the Black community. All of a sudden no one wants to be the chief, no one wants to die for the cause anymore or be the martyr. They all want a chief to step up, whom they will conveniently try to undermine when given the chance. (more on The Crab Syndrome in a coming post)
So let's refresh the phrase a bit to include the latter 2 so we can really become more enlightened on the way we think.
Call a woman a bitch and you might get cut, call her a bad bitch or a boss bitch, you probably can get her number and the panty draws. Yep, all you have to do is add an adjective to the front of it that's deemed to be a positive to the negative word bitch and bam; you have officially transcended the word bitch. You have been officially cleared to use it whenever you want to use it.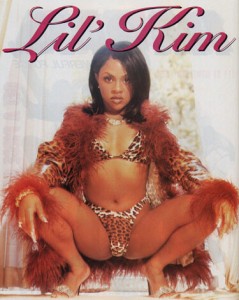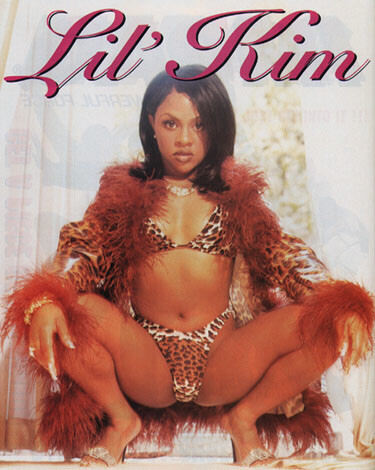 It started with Lil Kim in 1996 when she released her debut album, Hardcore. She had a song on it entitled Queen Bitch from which her nickname was derived, as she was called The Queen B from that time on.
Four years later, in 2000, Trina came out with an album titled Da Baddest Bitch and bitch officially became a part of the African American lexicon as a term of endearment if a woman called another woman a bitch, as in "bitch please" or "I'm partying with my bitches tonight".
Don't get me wrong, male rappers have been using the word in lyrics since the 80's but most women frowned upon it and had something to say negatively about the person using the word. Male rappers were always being ostracized for using it in raps, but when Lil Kim came along and coined herself as the Queen Bitch it began to take on a different form.
Not only do women use it unabashedly, men do it also. It's become part of people's everyday vernacular unless it's being used in a negative way, in a form of malice. Continue reading →