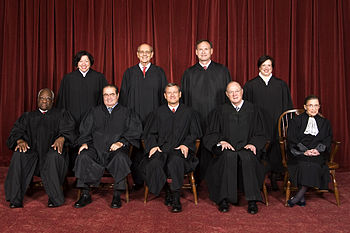 Grover Norquist, The 5 Conservative Supreme Court Justices, The Koch Brothers, Sheldon Adelson, and everyone over at Faux News that have campaigned tirelessly to get Citizens United on the books as a law are really loving what's being done by Mitt Romney right now. It was recently reported that Mitt will more than likely be the first presidential candidate to out raise a sitting president in a presidential campaign since the beginning of this great republic.
With billionaire after billionaire helping to raise funds for Mitt, Barack is looking at some hard times down the stretch, when Romney might be able to outspend him in key battleground states and pull out a few miracles courtesy of his magic underwear.
I still think that Barack is going to beat him handily as long as Eric Holder and his team put an end to the voter suppression being done by the GOP. But a Barack victory, as beautiful as it may be, comes with some ugly consequences.
There are two scenarios that will play out during this election cycle and both are good for the GOP and the Citizens United ruling. It's a win/win for Conservatives no matter what happens in November.
Scenario 1 – If Mitt Romney raises more money than Barack Obama and gets elected citizens United will never come close to being overturned because the Supreme Court Justices that retire during the next 4 years will be replaced by more conservatives and there is no way that they will overturn the ruling. There needs to be a left leaning court to get the decision reversed and the only way that will happen is if Barack wins again. So if Mitt wins, Citizens United wins.