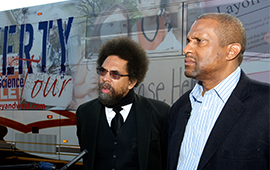 I thought for sure that I had written something about Tavis Smiley's and Cornel West's ongoing crusade against The POTUS, Barack Obama. I searched through the blog and found nothing. Then realized that I had written so extensively on a FB friends post that I thought I had penned a 2000 word magnum opus to why Tavis and Cornel were on some bitter, spiteful BS,  when it came down to their criticism of the Pres. So now that I know I've never really addressed this issue  fully and after hearing what Mo Kelly said when talking to Roland Martin on blackamericaweb.com on Wed, 12/18/12 I decided to get to it.
First off let me say that I had the utmost respect for Tavis Smiley and Cornel West as two of the top African American intellectuals in the game today. The key word is had! Don't get me wrong, I still have respect for them but nothing close to what I started off with. They both showed me over the past 4 years that they were willing to try to sabotage the first Black President (this statement is debatable if you do some research, well the first that they acknowledge), that this country has ever seen to advance their own careers and agendas.
Cornel started his crusade after he felt like he was slighted when Barack only gave him one inauguration ticket, which by the way was the same amount I got, and he wanted some more for his mother and a friend. After this he started spewing his critique venomously with the key word love attached to it to make it seem as if it was all about love. Then he went to a dinner or junket that the President was at and said that he felt like the President was treating him wrong by not sitting down with him after he had worked on his campaign tirelessly. At this junket he says that the POTUS kind of shoed him off by ostracizing him about the harsh words he had been saying about him, he said verbatim that he felt like Barack was talking down to him during that conversation. Continue reading →
http://smileyandwest.ning.com/forum/topics/a-listener-takes-smiley-to?id=6295872%3ATopic%3A8131&page=1#comments
I had a chance to speak my opinion on The Smiley and West Show, then I commented on the post afterwords, you can click the link above to hear it and this is what I wrote in the comments section.
Thanks for the comments.
As the segment for the show had time restraints I wasn't able to fully explain my position on the Your Vote is Your Voice statement that Tavis put on Facebook.
To better clear it up, I'm not an advocate for not voting. I understand that voting is an intricate part of America, but it is a choice, not a mandate. If you choose to vote then cool but if you choose not to vote, then cool, it's your choice.
As for Your Vote is Your Voice, I equate it to saying No Vote = No Voice, or if you don't vote shut up, which Tavis said he believed was accurate, and that if you don't vote keep your mouth shut. We did agree that people who have been imprisoned and cant vote in some states was wrong and that something should be done about it but as for regular people, just shut up.
This is where my problem lies.
As a product of Generation X, growing up in a predominantly Black neighborhood I have seen first hand how voting has done nothing for these neighborhoods. People vote, neighborhood remains the same, schools get worst, crime doesn't stop, repeat every couple years. It's cyclical and every couple years we have politicians that re-promise their constituents the world but never deliver. Continue reading →