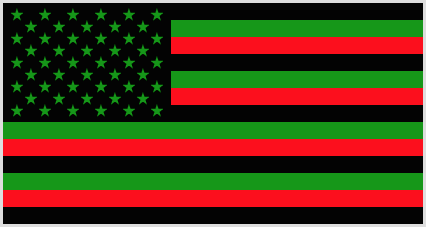 For some time I've considered writing a post about this but never found the motivation to actually sit down and start writing, but the other day after addressing a post on Facebook and getting the typical response from so called "conscious" black dudes, I decided to finally pen this post.
So here's the thing, Black people in this Country, the United States of America, have no true identity! We are the homeless, we are the disenfranchised, we are downtrodden, the oppressed! We seek to belong to something greater than this existence that we have right now in this place, in this space and time. We long for the glory days of our ancestors as if that is all we ever had or ever will have. But I tell you that right here, right now, is all we have and will ever have, here in this country in this space, and in this time. Nothing else! The past is gone, yet it resides within us, and the future is yet to come, but it also resides within us. So with what we have right now, which is the past, the present and the future within, we should be able to create a future similar to our once glorious past!
But in order to get there, we need to come to a realization, one that will piss a lot of you off and others will accept wholeheartedly, and have no problem with.
And that realization is the cold hard fact that the descendants of slaves, with African blood flowing through their veins, that we call African Americans, are Not Africans! Neither are we truly Americans!
We are an amalgamation of these things, these nationalism's, these concepts, and these ideologies, and because these ideologies are viewed as opposing ideologies, our programming tells us that we need to embrace one or the other, not both. This programming is taught to us by our parents as children, "right vs wrong", "good vs evil", "if you're not with me you're against me", and re-enforced in church as the "you can't straddle the fence" sermon. We've always been taught that you have to pick a side, and if we don't, we're the one in the wrong, there is no neutral position in life. But this is wrong when it comes down to the African/American debate! I chose to use the examples above to show how the thought process is indoctrinated into our psyches as young African American children, not to debate good and evil or right and wrong!
This is why when we're confronted with two seemingly opposing ideologies we quickly pick sides. Our programming says its either one or the other, and you will always pick the side of your highest understanding, the one that instills pride in you, which is actually the one that makes you feel the best about your Self. Therefore when one has to choose between African/Black, and American/White we choose to identify with the African/Black first. Those that don't choose Black first have been considered to be the sellouts and coons back in the day therefore the "real Black man or woman is the one that embraces Africa over America! These so called conscious Black people lay claim that there's no middle ground even if your mother was white and your father was Black, you must self identify as Black, ask any biracial American. But what they don't seem to understand is that that very understanding is what the white man, or massa had during slavery, the one drop rule! And if you choose your white side, you're considered a sellout, a coon, and a host of other derogatory names that seeks to take away your Blackness. And even if you don't identify as white, or if you have two Black parents but don't identify with being African, you're put in the same category, because you have to pick a side, and if you're not on their side then you're against them, simply because you're not with them.
So here we are in 2015 claiming to be conscious Black men but that conscious thought is built directly off the slave traders understanding of who we were to be in this country. The slaves were never meant to be Americans, and generations down the line we are too far removed from our African ancestors, that we are not Africans either, we are an amalgamation of the two. We are now a new people, a people manifested from the remnants of a great race that saw itself decline to the point of colonization and slavery to finally be back in control of our own destiny once again!
Malachi Z York called us NuWabians, some say we are the Moors, Hebrew Israelites, Egyptians, but I say we are all and we are none, therefore we must create a new understanding, a new people.
You can call yourself and African, an African American, or just a plain ole American, that's up to you, but I will from this day forward, address myself and those in this diaspora in the US, as Afrimerican!
Afrimerican: A people forged from the lowest point of mans existence as slaves, that fought to be free, earned that freedom and began to build. We have fought those that oppose us for over 400 years and we have made great strides. Our birthing pains have been great and there are still more to come. But we must understand and incorporate into our thinking that those that fight against and resist change will always end up on loser's side of history, it's inevitable. Therefore we will always be victorious in our quest to change the things that ail our people, it just takes time!